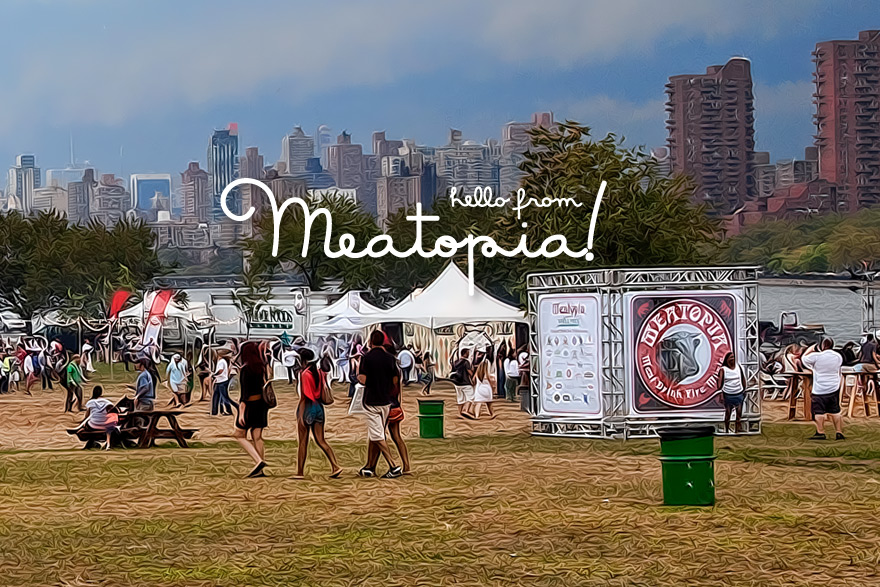 M-E-A-T
That's all it took to get me excited for the most ambitious line-up of chefs from across the country, all at Randall's Island Park for Meatopia 2012: The City of Meat. With over forty of the best meat masters in the world, I was certain I needed a strategy for this ultimate carnage. Three things came to mind. Should I starve the whole day and pig out when I get there? Should I wear fat pants? Or should I just bring some Pepto in case things go downhill? Answer: All the above.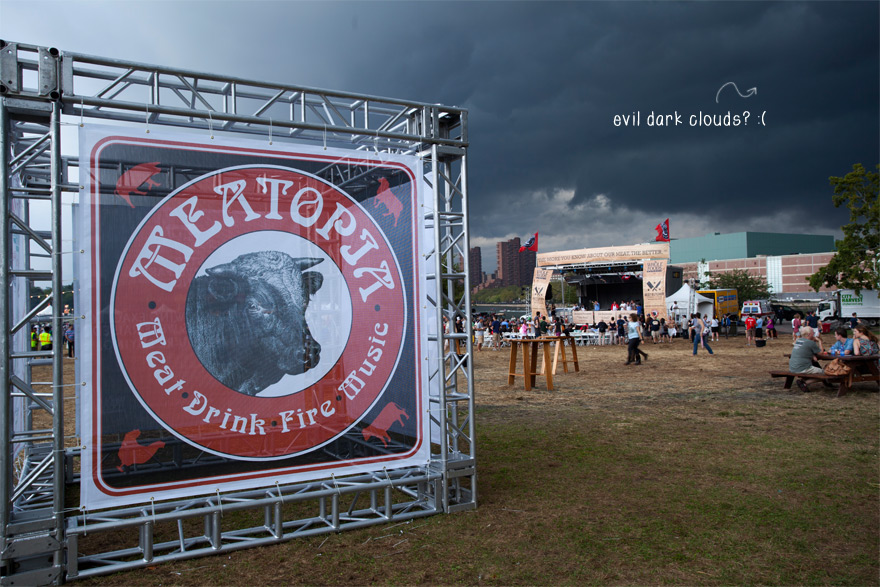 I had no preparation for what was to come.
Like a typical New Yorker, I was oblivious to the weather and didn't know there was a storm brewing that would downpour for the rest of the night. I thought the hipster twister was only going to harass the residents of Queens and Brooklyn, and would dissipate by the time I've arrived. Nope. I was completely wrong. For the love of meat! Rain or shine!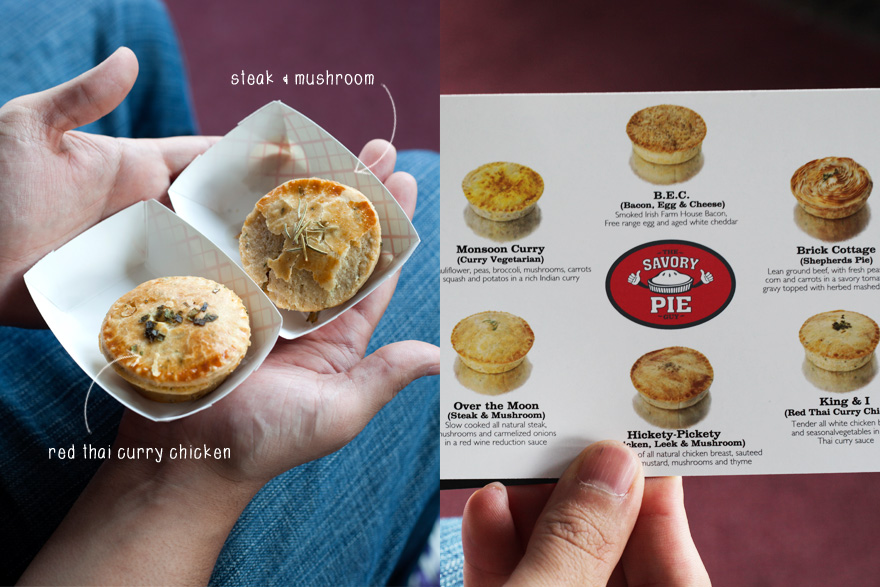 Hopping on the 34th St. New York City Ferry, I was surprisingly greeted by two mini pies from The Savory Pie Guy. The "Over the Moon" Steak and Mushroom was filled with slow-cooked steak, mushroom and caramelized onions in red wine reduction; the "King and I" contained chicken breast seasoned with vegetables and red Thai curry. Even though they looked rather petite, they were quite substantial. Each mini pie was stuffed with great ingredients – not with the slime sauce you typically get with a store-bought microwavable pie. Great appetizer for the short ride directly to Randall's Island!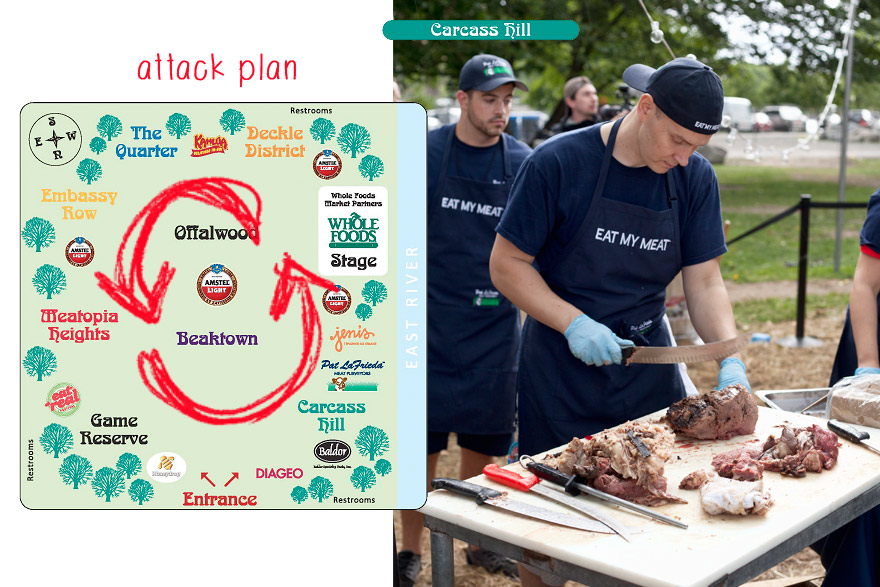 With a one-minute walk from the ferry, I found myself in the great City of Meat! Chefs were grouped in meat-themed neighborhoods, starting with Carcass Hill and ending with Game Reserve. My plan of attack? Go counterclockwise and end in the middle with Offalwood. I'll be brutally honest, I'm not a big fan of Offal. In fact … I find it pretty disgusting, but today I am a culinary explorer. Nothing will be turned away, and I will taste it all. I figured if I ended with Offal, it wouldn't ruin the event for me.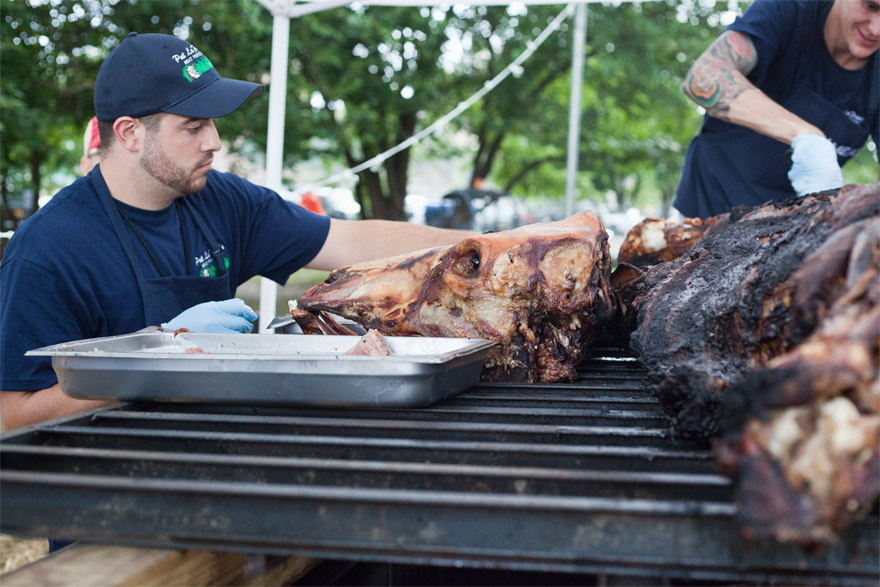 First stop, Carcass Hill. A crowd of people standing by Pat Lafrieda's masterpiece (or is it measterpiece?), a whole thousand-pound Creekstone steer. It looked like a man vs. beast moment, and clearly the beast had succumbed.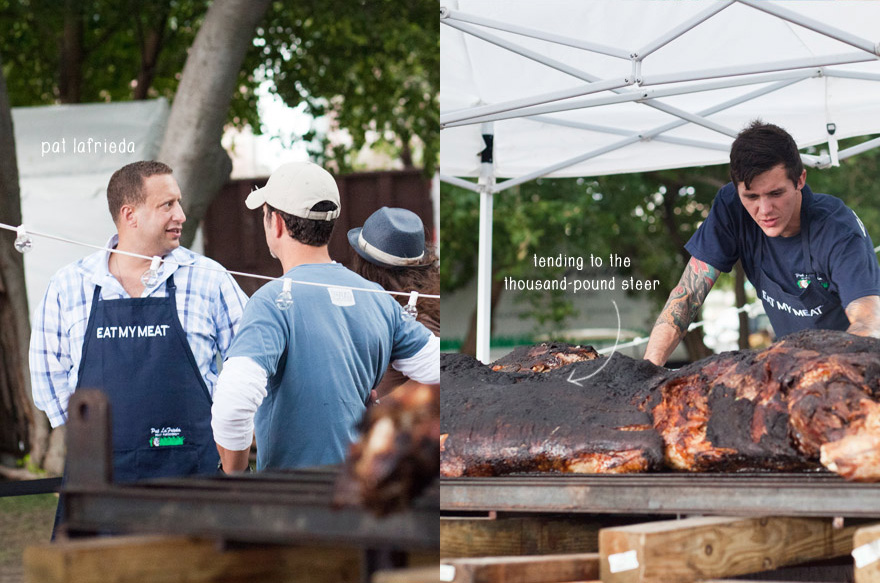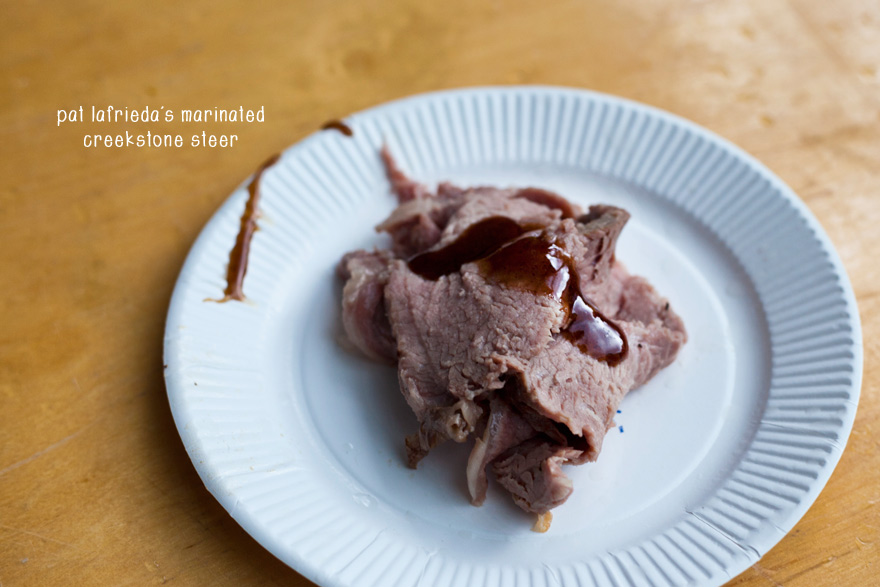 A sampler of the steer. The texture is extremely soft and moist. The BBQ sauce on top is very thick and sweet, a huge contrast to the meat…which was rather plain in flavor.
I had to stop and stare at this roasted pig head…what a centerpiece. April Bloomfield, known for holding a Michelin star at The Spotted Pig and The Breslin, serves up a tray of Kansas City-style BBQ Whole Hog, with a side of creamy corn.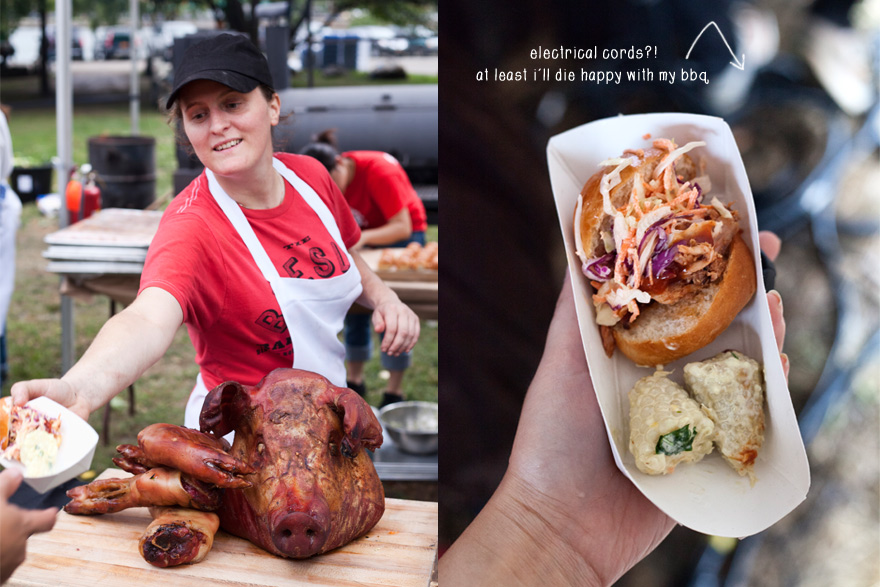 Right when April served me the delicious BBQ, it started to downpour. I ran to the nearest cover from the rain, protecting the food rather than my camera. That's how you know you've got your priorities straight. I quickly snapped the image on the right, and a stranger's voice belched, "FYI, I don't think it's safe to stand on/near the electricity." Three seconds later, the tent loses power, shutting down the music and photo booth. I proceeded to wolf down the sandwich, and before I knew it, it was gone. I didn't have time to remember the taste, all I knew was that I'd eat it again.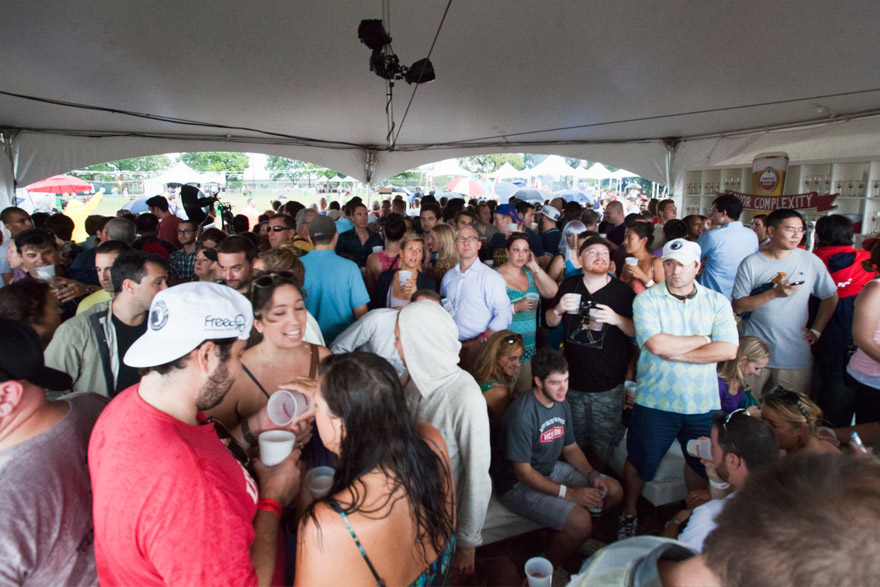 Everyone hiding out in the tent. They were able to bring the power back up pretty quickly. And hiding out in a liquor tent proved to be quite an excellent idea.
One of the challenges for the event is making sure the food stays hot when you receive it. Cold meat just doesn't present well, and it shows real testament and dedication toward how serious the chefs are to their craft. Some chefs are out grilling in the rain, are being friendly with the attendees. Though a few others didn't make themselves available for pictures, and are hiding out.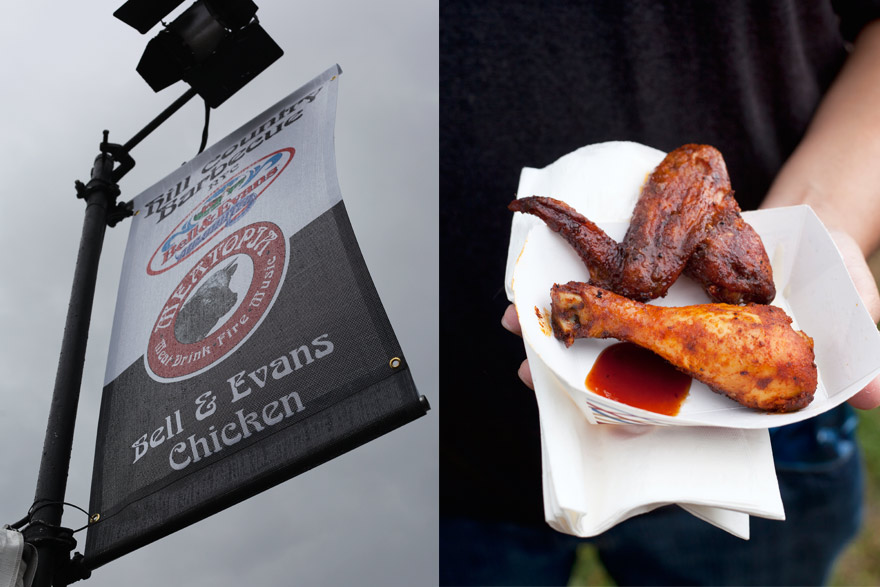 Hill Country BBQ is pretty delicious – I've had it many times. However, I think the taste drastically changes as the chicken starts to cool, especially in a rainy situation. It was a little too cold for my opinion, and dry as well.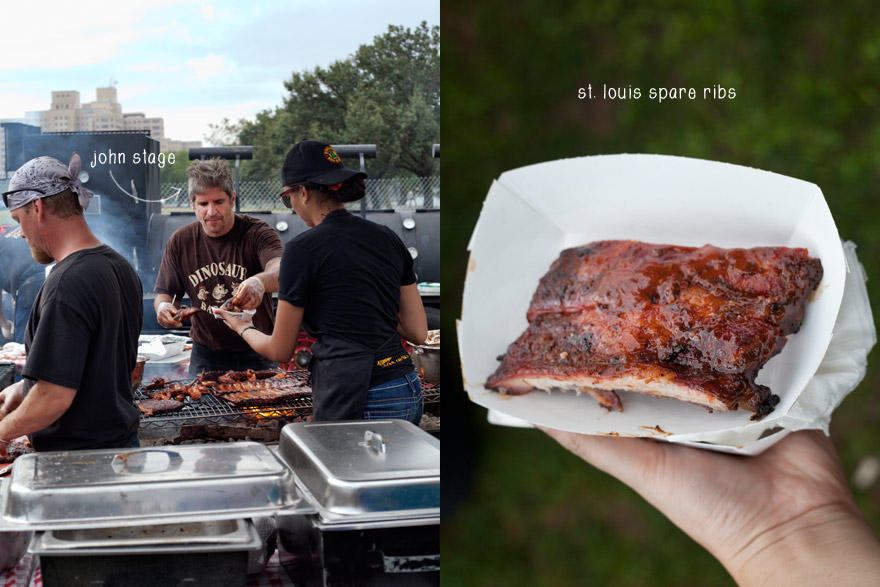 John Stage, Dinosaur BBQ Pitmaster extraordinaire, being hands-on in the rain. My first impression of the ribs: "Wow!" They have a tangy, juicy crunch to them, exploding with flavor. I've heard raving reviews for Dinosaur BBQ from my friends, and I've yet to try. I'm totally convinced, that'll be my next BBQ spot.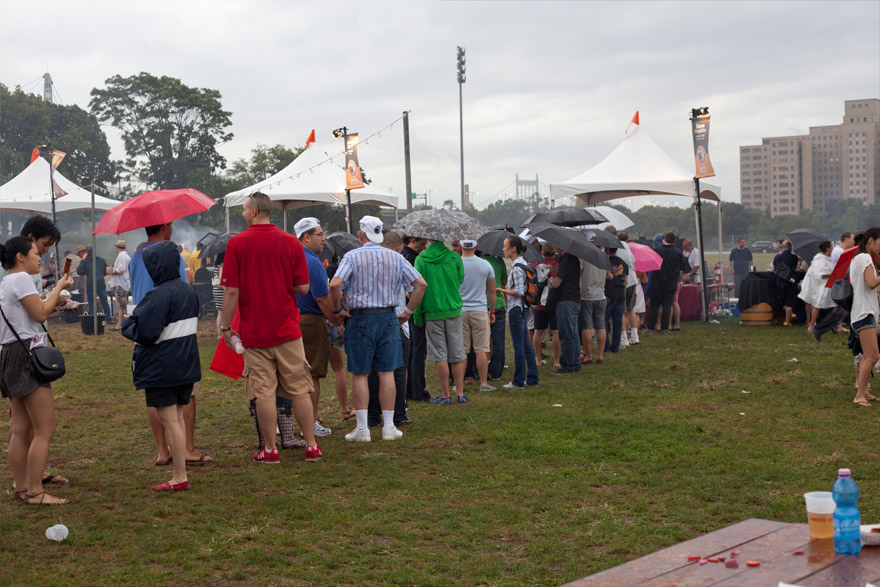 After nibbling on the ribs, I could not help but notice this huge line. Since it's raining, not many people were willing to wait, so I had to investigate.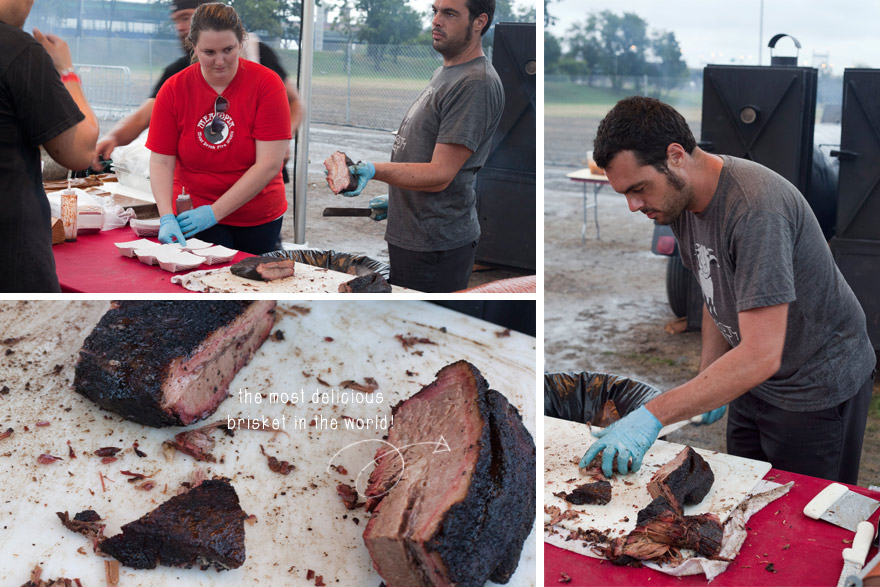 Aaron Franklin's Texas Beef Brisket. I haven't heard of this guy, but looking at the line, everyone knew something I didn't. This was the first chef that asked each person how they were doing, and appreciated the fact that we were all waiting in the pouring rain to sample his food. Boy, it was worth the wait. It was the best f**king brisket I have ever had. It literally melted in your mouth, like butter. I'm not sure how this guy cooked down what would usually be a very tough, dry, flavorless piece of meat. I can't describe it…it's just f**king good. There are people that said they'd wait another 30 minutes in the rain again to get another sample, it was THAT good. Later in the evening, Aaron was awarded the Grand Champion of Meatopia and was presented with a two-foot-long knife from Korin. (Pics to follow later in the post.)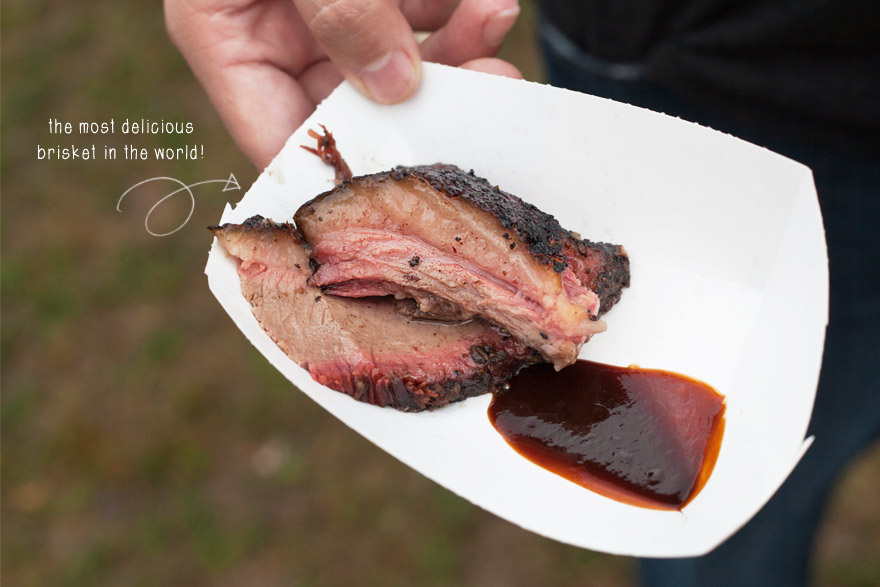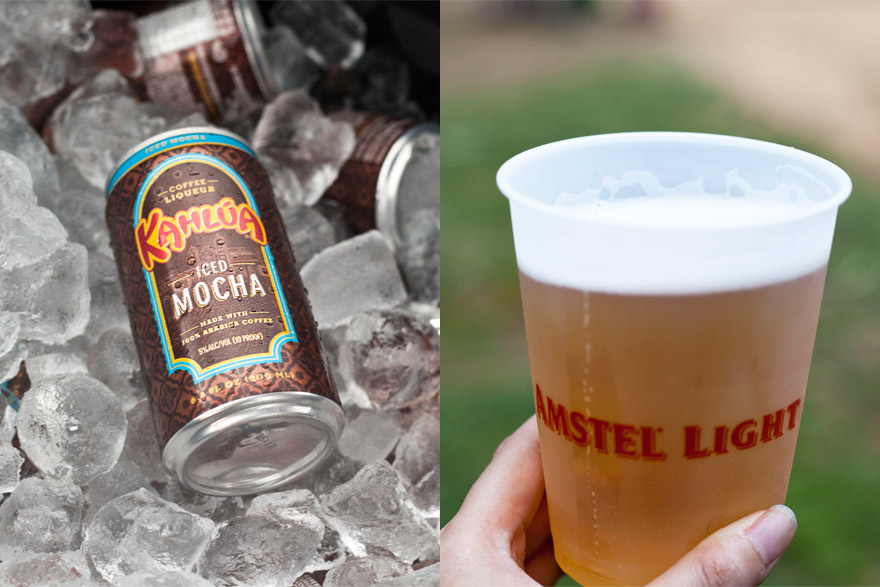 Drink situation? Well, there were buckets filled with bottled water as well as plenty of Amstel Light, Kahlua Iced Coffee and – if you wanted something more hard-hitting – there were whiskey and liquor drinks available as well.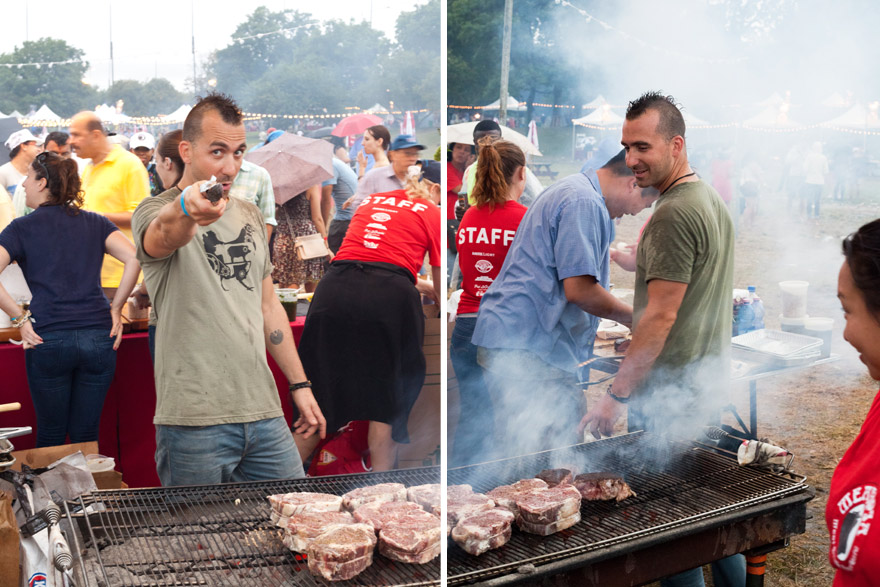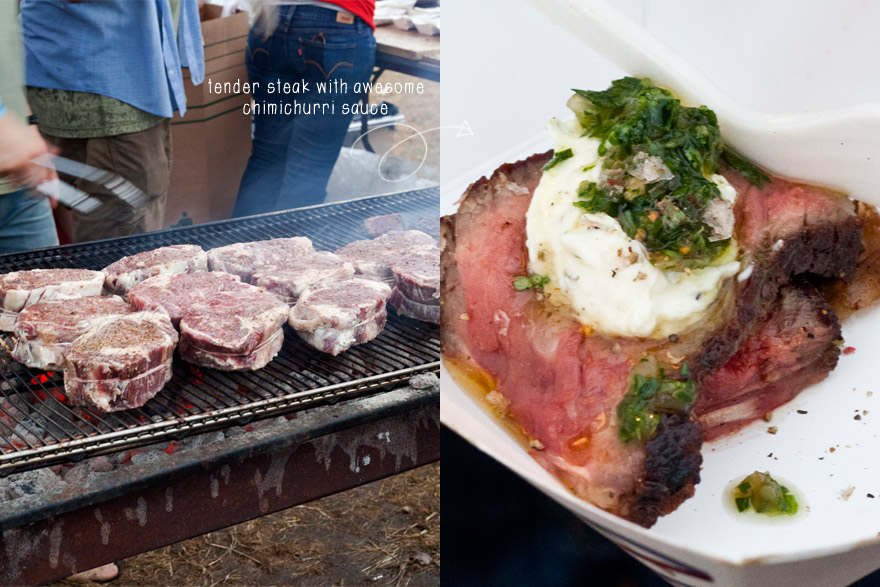 Marc Forgione served up some grilled rib steak with bone marrow maitre 'd butter, Pierre Poivre and smoked onion Chimichurri. The steak was superb, super flavorful and the bone-marrow butter was so rich with awesome Chimichurri sauce. I would say this was one of the highlights of Meatopia.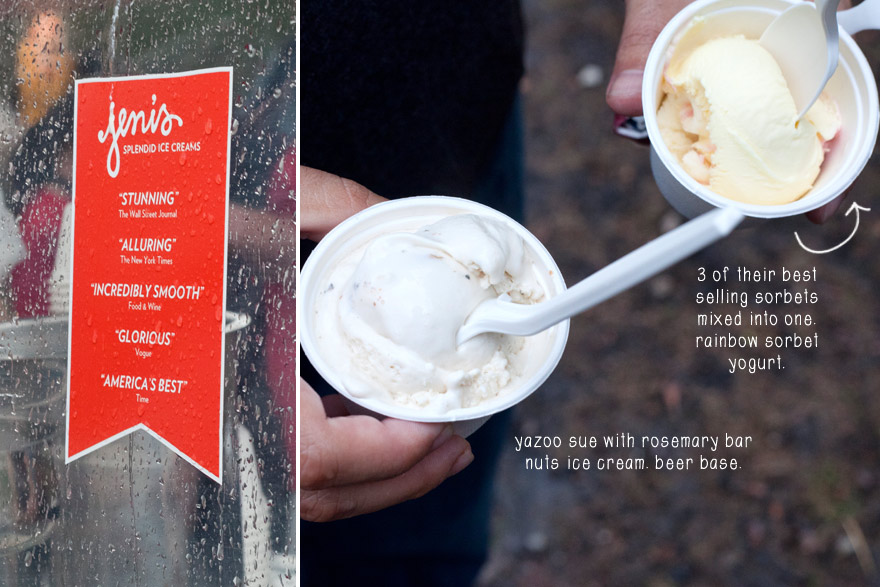 Taking a break from this meat carnage, some refreshing ice cream should do the trick! Strolled to Jeni's Splended Ice Cream (James Beard Winner). One is a sorbet and the other is a beer-based ice cream. I had the Yazoo Sue, so creamy – sort of like caramel pecan ice cream goodness. The rainbow sherbet was a little too tart for me, but overall, it was very delightful.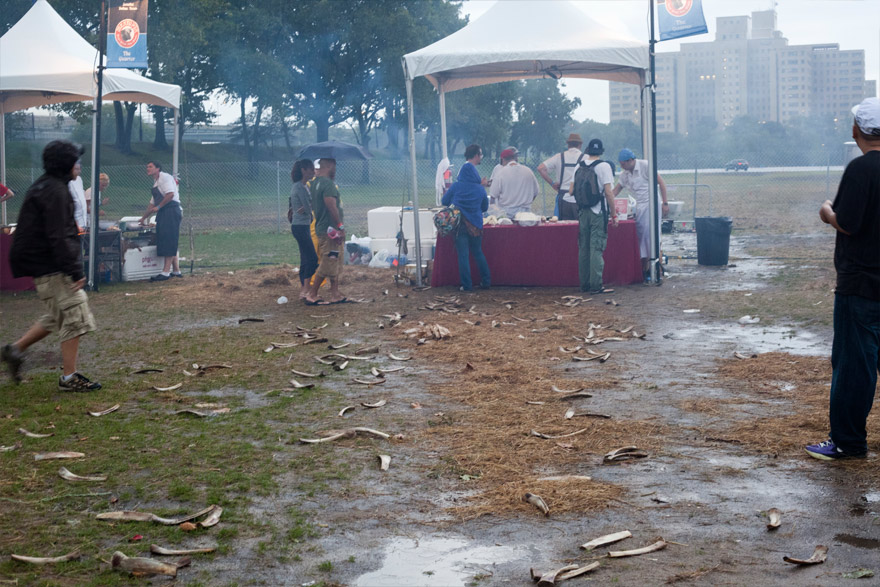 carnage… I mean… bonescaping.
At Michael White's, booth watching fresh Mostarda being prepared.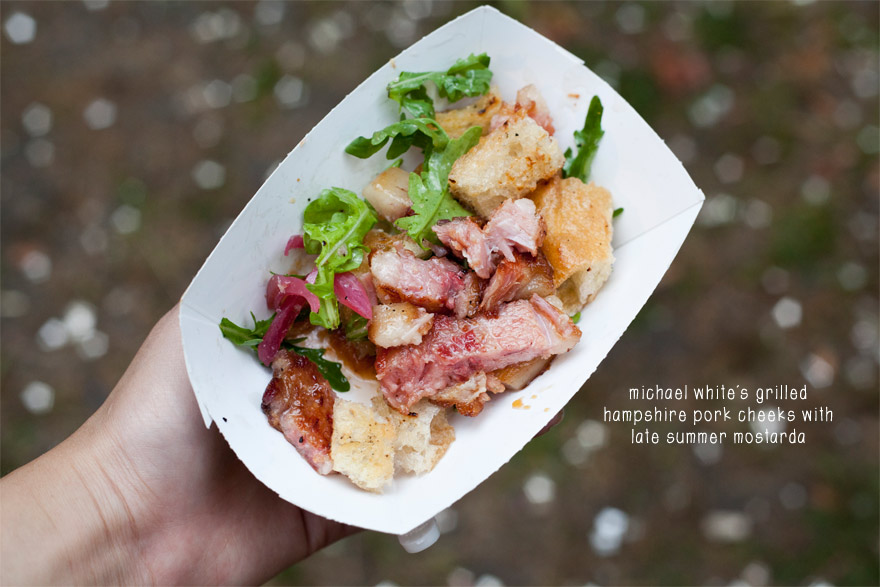 At first, I thought I was eating a bacon salad. It was extremely rich, the flavors of the bitter salad and the dressing – flavorful and savory. I loved it! It was one of those dishes that you really feel "This is bad for you, but I can't stop eating it."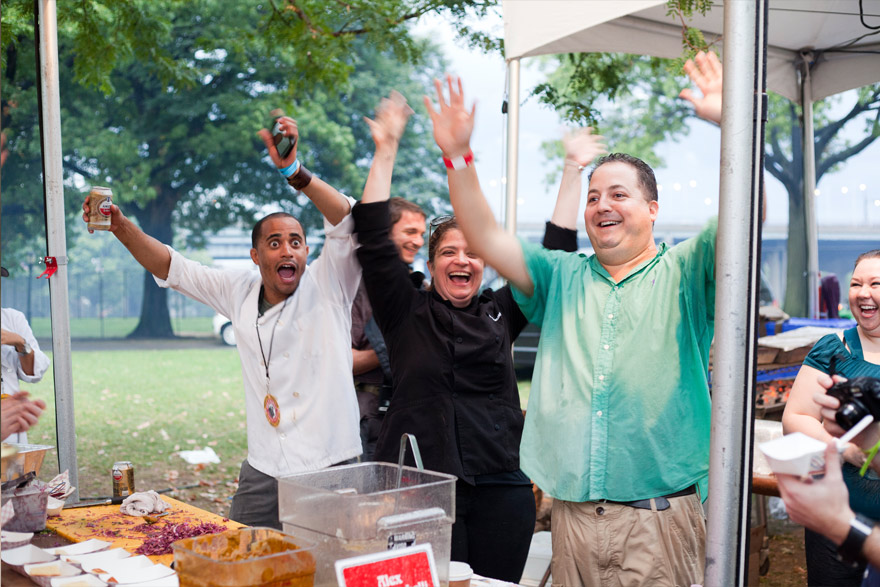 Yup! That's the celebrity chef Alex Guarnaschelli from NYC's Butter restaurant and The Darby. She's also on Food Network's showChopped. Why are they so happy? They're actually cheering because someone said they liked the food they sampled. What did she serve? "Canard a la Presse with Sauce Chasseur." I had no idea what that meant, but I took a bite. Unfortunately, not my favorite. It's basically pressed duck with blood and bone marrow + sauce. It tasted a lot like liver. Still, their protocol is to cheer loudly when someone says they enjoy the duck, pretty hilarious.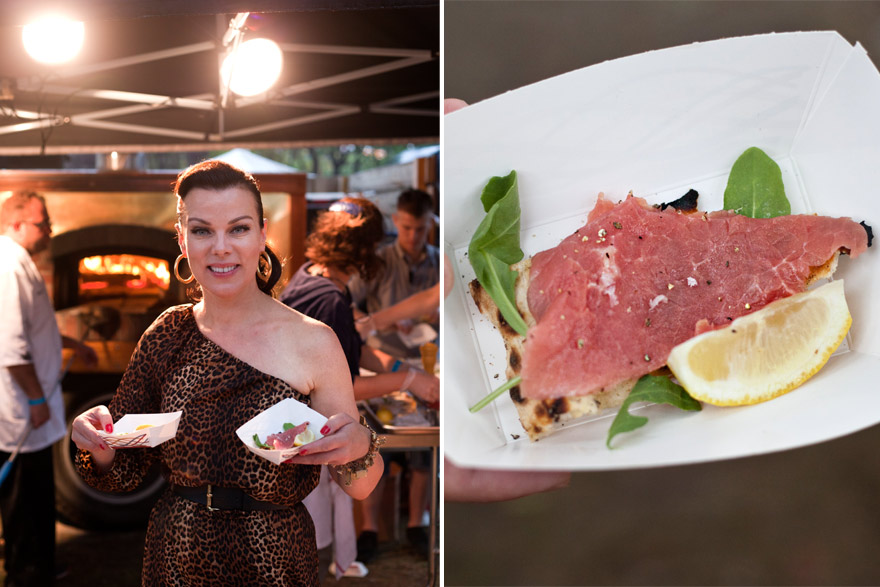 Next up, we have the beautiful Debi Mazar! Gabriele Corcos & Debi Mazar are presenting their Pizza al Carpaccio with Pidemontese Eye Round Beef. She recommended we squeeze fresh lemon over the top before eating. The crust was amazing, rightfully so – they have a real pizza oven in the back!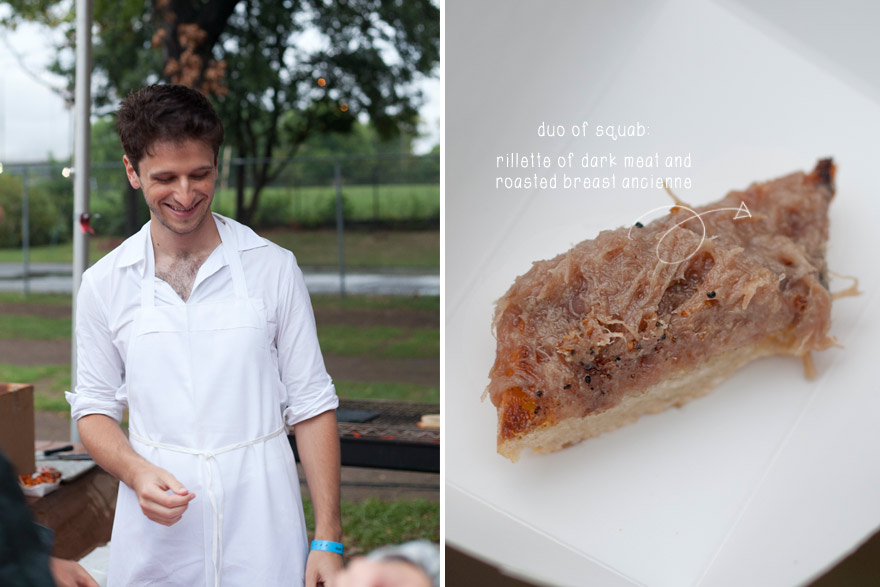 Harold Moore – Duo of Squab.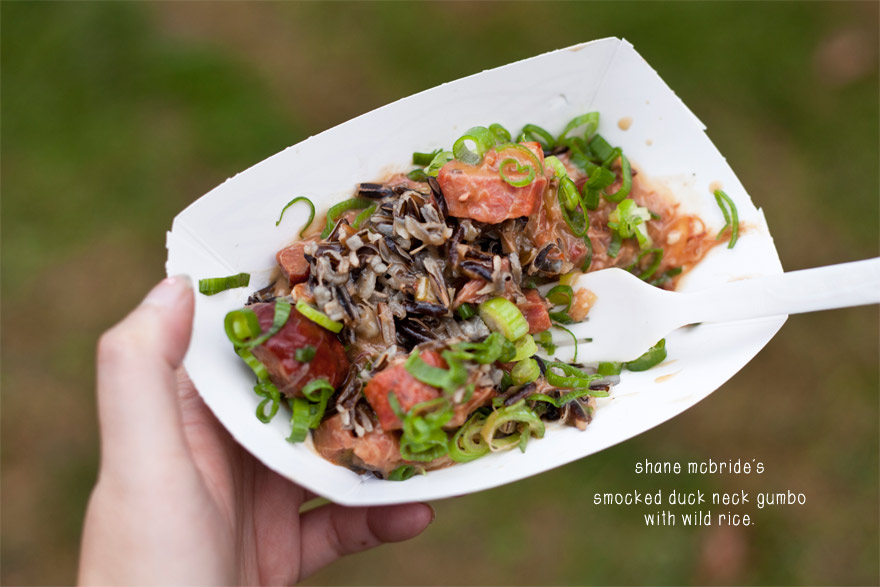 Shane McBride from Balthazar. Great balance of flavors, loved the scallions in the mix!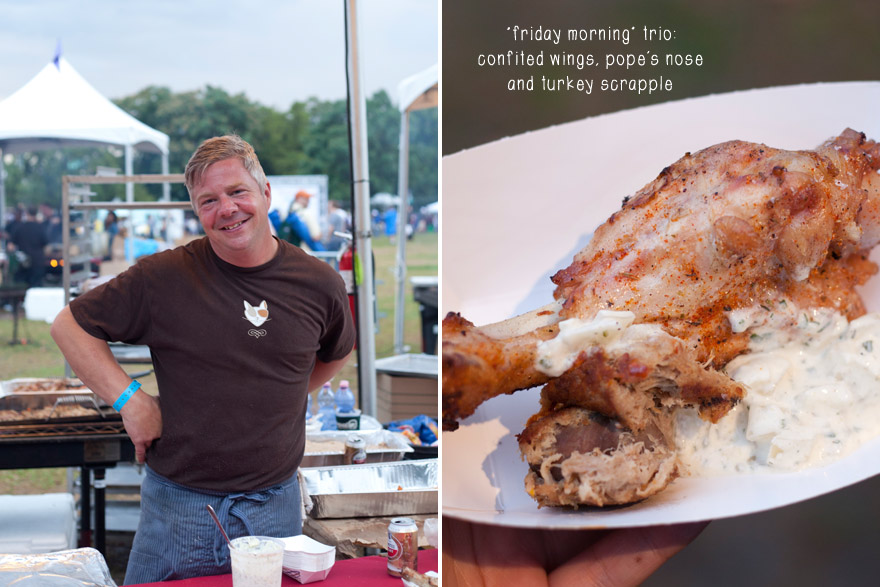 Adam Sappington's Turkey Trio. I wish they were heated up, and not cold. He's actually a very personable guy; he yelled out at us to try his food, necessary mainly because I'm already suffering from food coma and don't know if I can eat any more at this point.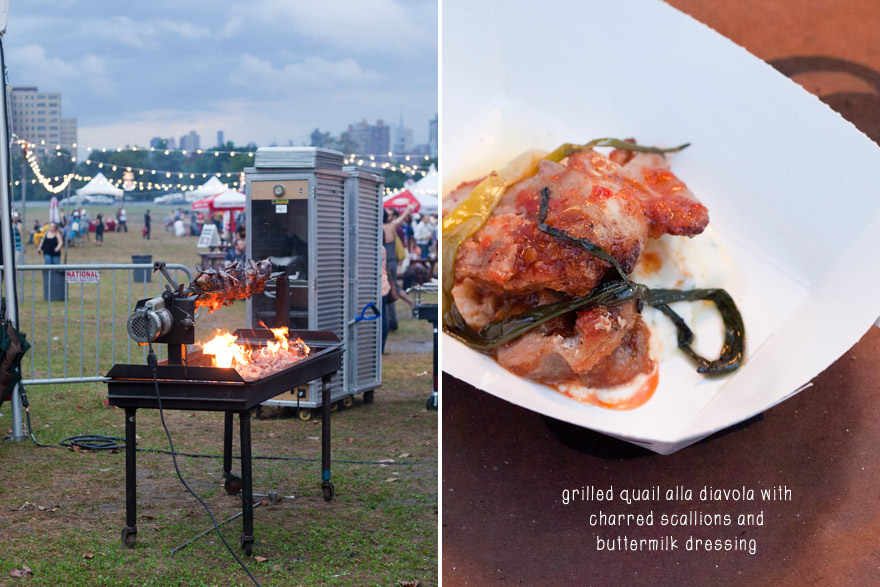 Sun's setting and quails are roasting on the fire. How romantic! This is Mike Toscano's tender quail!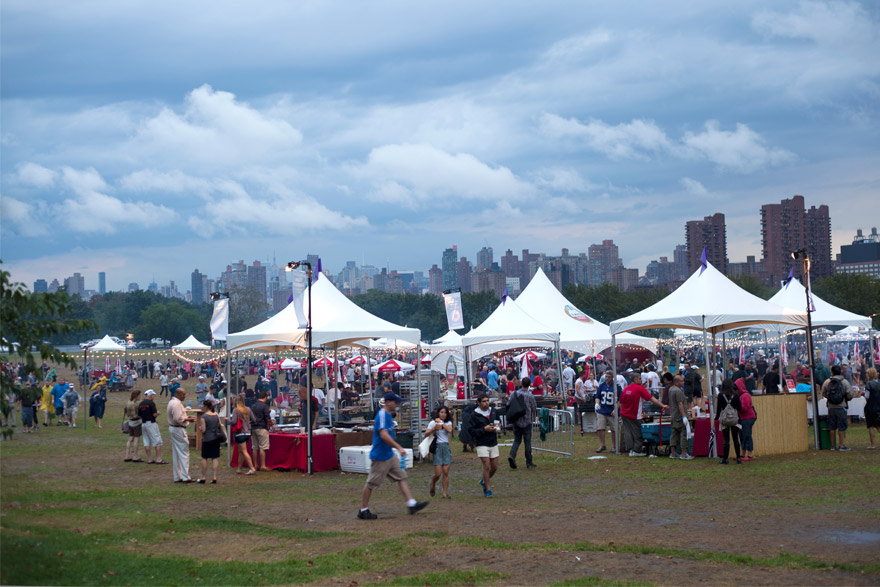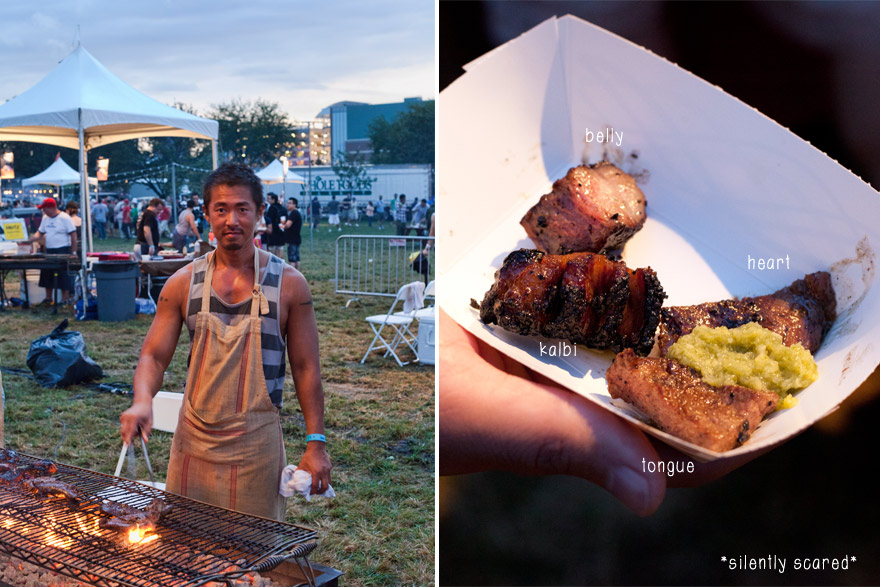 OK, at this point I'm beyond full. I don't think I can eat food ever again. It's the perfect time to try Offal! Ha! First stop, Takashi Inoue, very nice guy! Basically, the dish is a mix of tongue, heart, pork belly and Kalbi in different marinades, topped with scallion ginger salsa. I'll be honest, I'm not really into Offal, but I trust this guy…. I think it's definitely more of a mind thing than the actual food. The second I put the beef tongue in my mouth, all I thought of was … I transformed into a zombie and I'm biting off a cow's tongue. I couldn't do it, I psyched myself out. I think the taste was rather delicious, but it's more of a texture thing. Surprisingly, it tasted much like regular beef. I think seeing tongues being grilled, I was a little scared. However, no trouble eating up the kalbi and belly!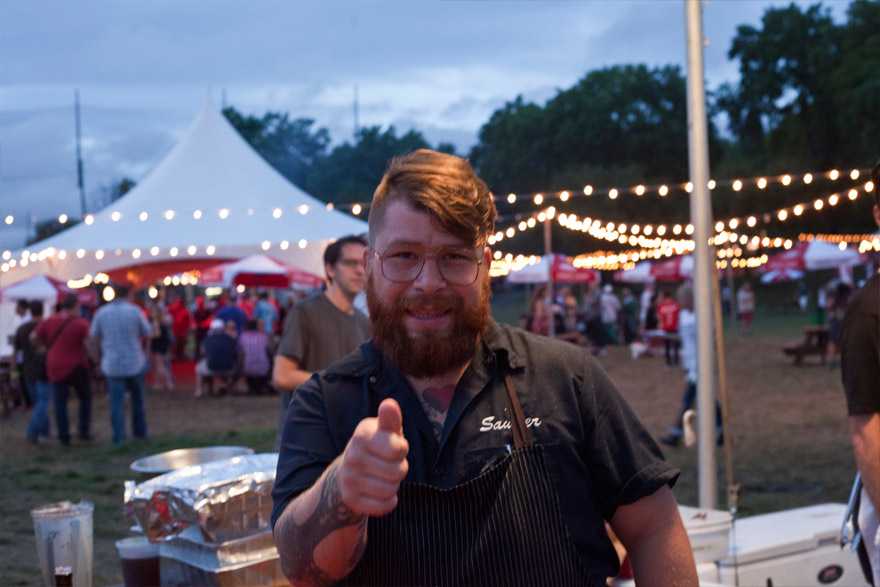 OK, lesson learned. I don't want to be embarrassing again. Next offal item, I will abstain from asking any information about what I'm eating. I'll just eat it. I walk up to Jonathan Sawyer, who is explaining his craft to two people ahead of me. I block out my hearing so I don't have any clue what he's talking about. He saw me and gave me a "thumbs up." Should I trust this guy? His smile? Will he not sabotage me to eat something super strange? I think I trust him.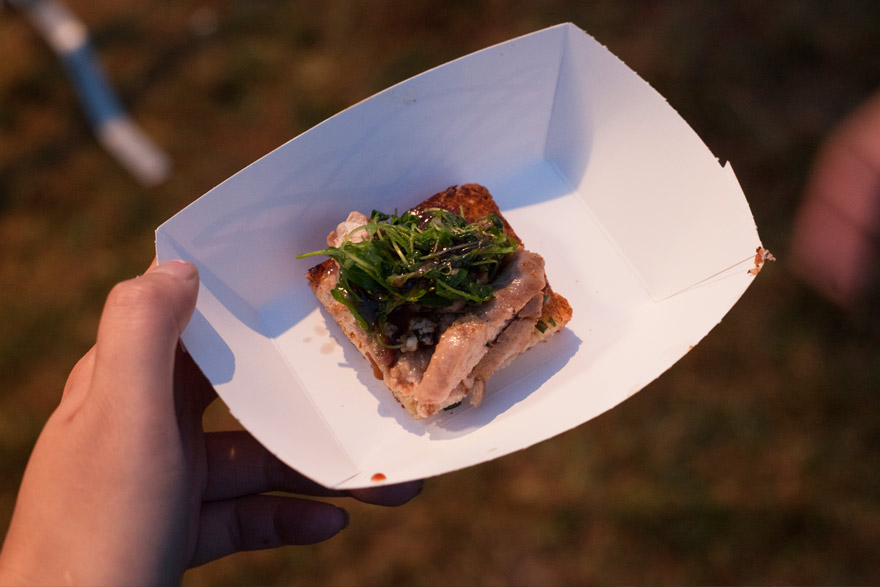 Sooooo, this is what he handed me. Yup, it looks like a chicken pizza. Harmless. "I'm doing it, no big deal", I tell myself. Deep down inside, I KNOW it's not chicken. Oh what the heck, I'll take a bite. First impression, the taste is actually extremely savory and flavorful, like a very delicious pizza, but it was followed up by this smooth, strange texture. It's definitely more of a texture thing than the taste. Yup. I just ate BRAINS. Brains and Egg with Crispy Sweetbreads and Lamb Liver Bottarga. I wouldn't mind trying this again next time…just don't tell me what it is first.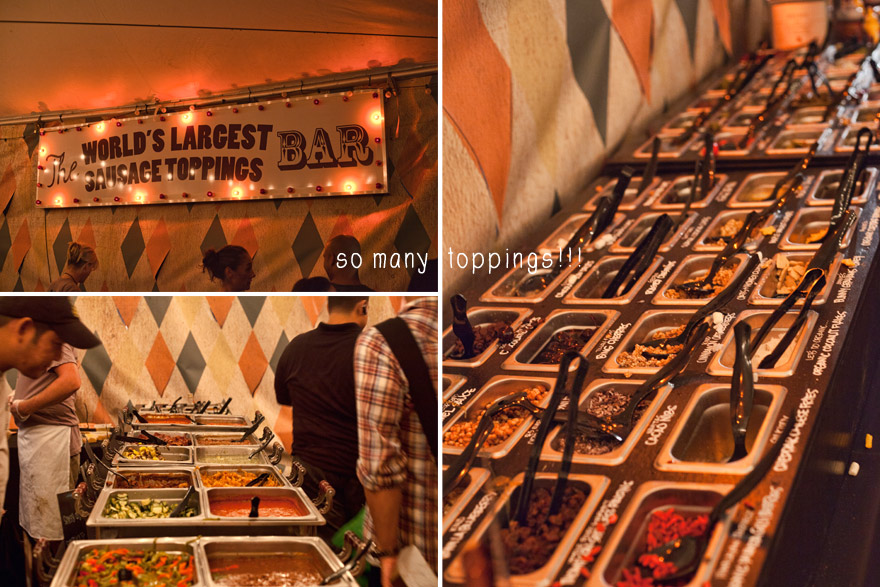 To shake off the zombie moment I just had, I strolled into what seems to be the "World's Largest Toppings Bar" which had more than 200 different types of toppings to dress up your sausage or dogs. Insane!
Competition Time!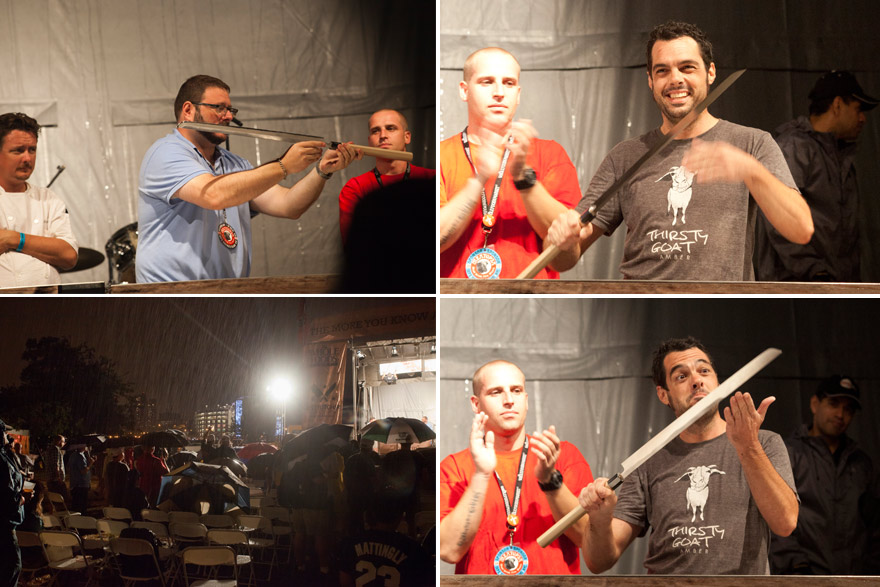 The Grand Champion chef, as voted by the judges, will receive a two-foot-long Japanese tuna knife from Korin Trading Co., forged by hand by master swordsmiths in Sakai, Japan, and inscribed with the winner's name. The winner is Aaron Franklin for his amazing beef brisket! Well deserved! It was the best-tasting brisket I've ever had! Upon receiving the tuna knife, he joked, "I'm not sure what I'm going to do with this."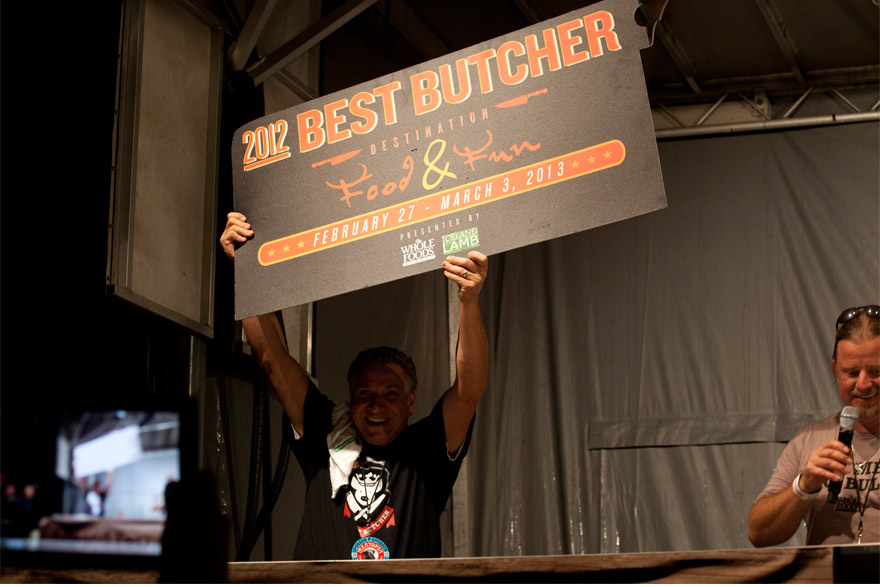 Armand "The Arm" Ferrante wins the 2012 Best Butcher contest, for the best Butcher Skills, craftmanship, custom cut, etc. Well deserved! He was working so effortlessly and the pieces are perfect. He had huge arm muscles, which is probably where his nickname comes from. Winner gets a custom cut provided by Whole Foods stores and a vacation!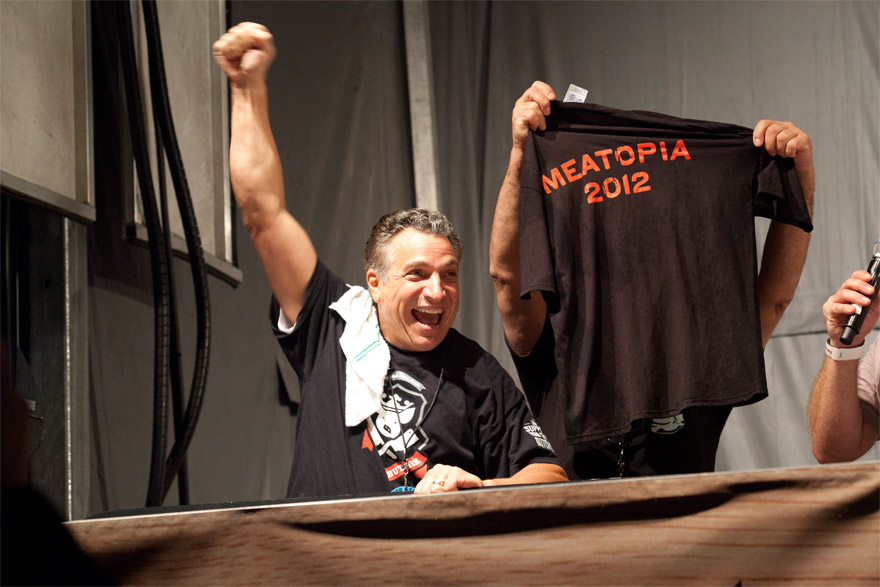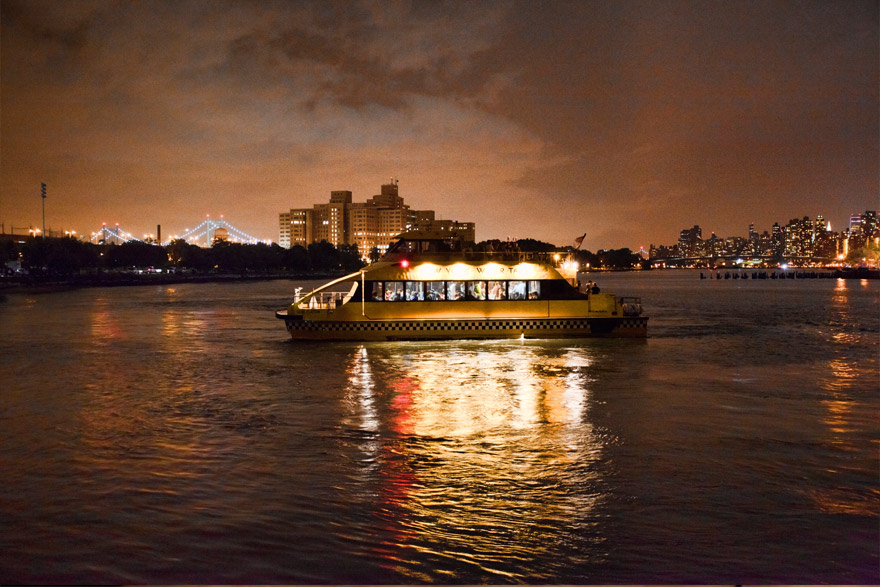 I'm done. All done. I've survived Meatopia 2012 because I didn't slip into a food coma right after I got home. The water taxi came to pick us up and the nice Upper East Side lights were a very beautiful scene to end a great Saturday filled with great food, great company, and most of all…great meat.
Luckily, this event blog was featured on Eater.com, never knew I could write something worthy of any feature. Thank you Eater!
Eater.com & NY Food Festival (2012)
Featured Photography Event Coverage - Meatopia